Formerly Theanthropy Pte Ltd
Course Overview
The journey to achieve the organization's sustainability goals is every staff responsibility. By educating them with the right skills and understanding of the best industry practices, they know how to collaborate effectively among all departments and apply the proper techniques to achieve the organization's sustainability goals.
Sustainability Awareness: Why Now, Why It Matters is essential training for any organization starting a sustainability transformation. Once the staff understands the "Why Now, Why It Matters" and agrees that sustainability is everyone's responsibility, this will create a ripple effect and incorporate sustainability thinking in their daily job.
AgileAsia is the first Training Provider in Singapore authorized by the Center of Sustainability and Excellence to deliver a Certified Sustainability (ESG) Practitioner course (Advanced 2023 edition).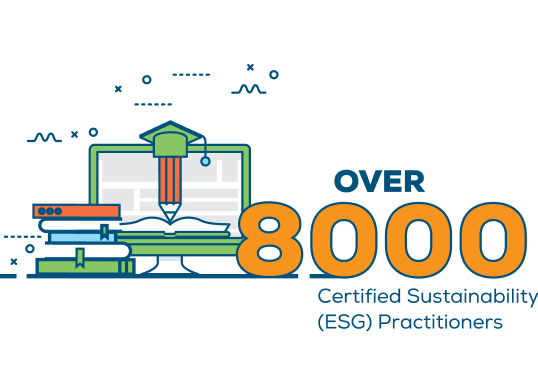 This one-day Sustainability Awareness course is designed to provide learners the confidence and knowledge to talk about sustainability in a professional setting and understand what encompasses the corporate sustainability report, how to communicate clearly to all stakeholders, and how to contribute and support the company's sustainable journey.
On completing this course, learners will appreciate key ESG concepts, understand why the organization has started the sustainability journey, and agree that Sustainability is everyone's responsibility.
This is a customized corporate training course.
Everywhere you turn to today, everybody is talking about Sustainability … customers, shareholders, stakeholders, suppliers, and even NGOs. But what is Sustainability? Why Does It Matter? How Does it affect my business? Is this a fad, or will this be a new normal moving forward?
In this 1-day course, participants will learn about the importance of sustainability – what it is, the trends, developments, and most importantly, why it matters to you. You will reflect on and contextualize it to your business and consider the challenges and solutions to drive sustainability forward.
Learning Outcomes:
•What Sustainability is. Why it matters.
•What are the standards and frameworks
•What are the new regulations to abide by. What if you don't?
•How to organize your company and drive changes in the processes
•Consider the resources required
•What challenges to expect and how to overcome them
•How to turn sustainability practices into a Competitive Advantage
•Through class discussions, learn from other participants
•Contextualize the learnings to your business
After completing the sustainability (ESG) awareness training, you will receive a Sustainability Awareness certificate, demonstrating that you are up to date with the latest developments in the field of ESG.
After the course, you will know what ESG entails, and you will be able to describe its relevance to your organization. You will be able to articulate essential regulations and initiatives in ESG and be familiar with the supervisors' expectations regarding creating a sustainability organization.
In-house training
We can develop tailored training programs to enhance staff's knowledge and skills to improve your sustainability rating. Email training@agileasia.com for more details.
Course Name: Sustainability Awareness - Why Now, Why IT Matters
Course Fee: $700.00 + $56.00 (GST) = $756.00
Refreshments: Only Coffee & Tea
Date: 19th Apr 2023
Time: 9 am to 5 pm
Venue: 190 Clemenceau Ave, #06-01 Singapore Shopping Centre, Singapore 239924

Curriculum
Day 1
Morning Session
- Introduction to Sustainability

- History of Industrialization

- How Carbon Affects Climate

- Why Is Climate Change an Existential Threat

- How Climate Change Affects Business

- What Is Sustainability?

- What Is ESG? Why It Matters To You?

- What Defines 'E' of ESG

- How Each Factor Affects The Environment

- Identify the 'E's' In Your Company

- What Defines 'S' of ESG

- How Each Factor Affects Social

- Identify the 'S's' In Your Company
Day 1
Afternoon Session
- What Defines 'G' of ESG

- How Each Factor Affects Governance

- Identify the 'G's' In Your Company

- How To Implement ESG in Your Company

- Changes in Processes and Mindset

- What Can Commitment In Sustainability Do For Your Business

- Various Standards, Frameworks, and Regulations on ESG

- Why Financial Institutions Are on Disclosures

- Supply Chain Due Diligence Regulation

- Turning ESG Into A Competitive Tool

- What To Expect If You Embrace Sustainability?

- How to support your company sustainability's goals?
Upcoming Course Schedules & Details
For eligible company sponsored participants, please send details to training@agileasia.com for registration as the Invoice will be issued under company name. Participants may make payment using this Invoice and receipt issued for reimbursement.
DATE

TIMINGS

FEE IN SGD

TRAINERS

REGISTER

Apr-19 - Apr-19
(Duration: 1)

9am to 5pm

$756.00 to $756.00

Michael Tay
DATE
:
Apr-19 - Apr-19
(Duration: 1)
TIMINGS
:
9am to 5pm
FEE IN SGD
:
$756.00 to $756.00
TRAINERS
:

Michael Tay

Enroll Now
Please Note:
This course is for corporate training
Funding Eligibility
Not Applicable
Singapore Citizen Aged 40 and above
Course Fees
$ 700.00
Funding
0 %
Nett Fees
$ 700.00
GST
$ 56.00
Nett Fees + GST
$ 756.00
Singapore Citizen Aged below 40 and All PRs
Course Fees
$ 700.00
Funding
0 %
Nett Fees
$ 700.00
GST
$ 56.00
Nett Fees + GST
$ 756.00
Others
Course Fees
$ 700.00
Funding
0 %
Nett Fees
$ 700.00
GST
$ 56.00
Nett Fees + GST
$ 756.00
This course is designed for corporate training. Please send your inquiry to training@agileasia.com for quotation
All employees who are working in MNCs and SMEs organization that are supporting the Government Sustainability Goals.
Testimonials
Never have I attended such an engaging course and it makes my journey of Agile and Scrum journey much more fun and fulfilling. Trainer Stuart Mitchell has definitely take up the standard of teaching and coaching up many notches. Very insightful views from vast working experiences that Stu has. Highly recommended!
Eugene Lee
Project Manager
Dennis and team are just simply great to work with. They are prompt with their replies and clear with their instructions to ensure that learners get the best experience and learning journey with them. That's why I had chosen to go back to them for my CSPO course after taking my CSM course with them. I am looking forward to the post course gatherings and informal trainings which I heard they they organize after Covid.
Edwin Anuruddha Chow
Event Manager
The class was conducted in the best way possible (online zoom classes)! Stu is really passionate and shares many tips on facilitation. Highly recommend to anyone!
Quah Kai Li
Senior Auditor
Thanks for the CSM course, I found it a rewarding experience. The course was well set out, easy to understand, and had an amazing trainer and coach (Stuart). It wasn't just about certification, but also gave insights to a lot of engagement techniques and real world experiences. I would highly recommend this course.
Shibil Poulose
Senior Director at VISA Singapore
The CSPO course that I took recently from Agile Asia was excellent. The instructor Mr.Sam had made us understand the responsibility of a PO very easily, with good hands-on practices and Q&A sessions after each topic. I would recommend this course for anyone, who would like to acquire Agile skills in a short period.
Renganayaki Ramasamy
Junior Product Associate
Absolutely wonderful course - The 2-day program was concise yet informative, also very engaging. Highly recommend anyone looking to do Certified Scrum Master to go with Agile Asia. The payment was also fuss-free, and if you are Singaporean, Skillsfuture credits were easily utilized
Abby Zhijun Wu
Software Engineers
Excellent course. The trainer was very interactive and provided very useful examples and facilitation techniques that are relatable in the working world. It was a good and enriching experience engaging with the trainer and other team members via the different platforms used throughout the course.
Lydiawati
Junior Product Associate
The program was concise and practical. I get to walk through the entire scrum process. Stu guided the team into role-playing for experiential learning! Much enjoyed! Word of caution: High energy and focus required throughout the course.
Terry Ng
Software Engineers
One of the best providers in the agile training space. The facilitators Stu and Sam have been there are done Scrum in large organizations and bring a wealth of knowledge. They convey concepts so well during classes that even people without a prior background can assimilate the knowledge easily.
Ajay Kumar Venkatasubramanian
Junior Product Associate
Attended CSM course by Stu Mitchell. Really enjoyed his lesson. Taught us how to be a good ScrumMaster. The techniques and case studies and engagement by the trainer, really showed the role is key in the scrum team. Definitely recommend.
Herman Shah
Software Engineers
This is an excellent training program conducted by a highly professional, knowledgeable and practicing trainer supported by a very motivated team. Stu Mitchell demonstrated in the real-life example of how to facilitate a Scrum team as a Scrum Master. His role plays often depict the real-life example
Poh Sing Low
Software Engineers
Thanks again for the course, I found it excellent and connected directly to all the challenges we talked through (especially as I am in large scale scrum delivery, plugging into multiple waterfall teams/cultures - not easy!).
S. Davidson
Executive Director, JP Morgan (October 2017)
As a course participant you will definitely learn how to implement Scrum, but more importantly, exposure to Stuart's passion will give you both critical insights into the underlying, non obvious, issues and tools and techniques you can use to immediately increase the odds that your orgnanization's
R. Roach
CSM Trainer (TCS)
I cleared my Scrum Master certification examination with 100% mark. I am so grateful for your efforts! Stuart is an incredible trainer. I will highly recommend you to my friends and colleagues
A. Nath
Trainer (Oracle)
I had some agile experience going into the training, and it was very helpful to learn what I do well. More importantly, I learned what I don't do well and how to change that.
C.Popescu
Senior Scientist at Oracle
Frequently Asked Questions