Formerly Theanthropy Pte Ltd
Course Overview
The Advanced Edition 2023: Certified Sustainability (ESG) Practitioner program, certified by the Center for Sustainability and Excellence (CSE), offers the latest practical tools and resources to implement or enhance corporate sustainability efforts. Elevate your ESG ratings and take your initiatives to the next level by creating successful ESG and Sustainability strategies that generate value.

Obtaining the Certified Sustainability (ESG), Practitioner credential showcases your understanding of core sustainability concepts and best practices. It signifies your advanced knowledge and extensive experience in the field of sustainability. This credential is designed to recognize leaders and experts driving the sustainable agenda and demonstrate mastery in critical areas such as stakeholder engagement, sustainability concepts, and implementation of sustainable strategies.
Earning a prestigious Sustainability Certification demonstrates your ability to drive sustainable growth with a clear purpose and meaningful impact. It positions you as a professional equipped with the knowledge and skills to navigate the complexities of sustainability and contribute to a more sustainable world.
2 Days Certified Sustainability (ESG) Practitioner
Time: 9.00 am to 5.00 pm

Venue: Lifelong Learning Institute
Course Fees: $2,000.00 + $160.00 (GST) = S$2,160.00

Subsidy: Yes, 70% for all Singaporeans and PRs (only for 50 learners) [Effective date: 1st Jul 2023 to 30th Sep 2023]
Nett Fees Payable after Subsidy: $600.00 + $160.00 (GST) = $760.00
Class Size: Max 20
Certification Fee: $200.00 for learners who want to submit the Certification Assessment to the Center for Sustainability and Excellence (CSE)
The Certified Sustainability (ESG) Practitioner Program - Advanced Edition 2023 goes beyond traditional carbon footprint measurement and reporting. It integrates sustainability into your corporate strategy and decision-making, focusing on critical areas such as:
Integration of SDGs and Circular Economy: Learn to incorporate the Sustainable Development Goals (SDGs) and Circular Economy principles into your sustainability plan.
Emerging Sustainability-ESG Trends: Stay updated on the latest sustainability and ESG trends, including evolving legislation and best practices.
Stakeholder Engagement: Enhance stakeholder engagement by developing effective strategies to foster collaboration and build strong relationships.
C-Suite Support: Gain insight into influencing C-Suite executives and securing their support for sustainability initiatives.
Maximizing ESG Performance: Understand the role of investors and learn how to maximize corporate performance in ESG ratings. Ambitious ESG Goals and Net Zero: Set ambitious ESG goals and explore strategies for achieving net-zero emissions.
Preparing for a Sustainable Future: Equip yourself and your organization with the tools and expertise to navigate the sustainability landscape and drive positive change.
Join the Certified Sustainability (ESG) Practitioner Program - Advanced Edition 2023 to learn how to lead sustainable practices and contribute to a better future.
Our program goes beyond the conventional approach of measuring and reporting carbon footprint. It empowers you to integrate sustainability into your corporate strategy and decision-making. By participating in this program, you will:
Understand and analyze the business models that drive change
Communicate the competitive advantages of being a purpose-driven leader to management, leadership, and other key stakeholders.
Explore why collective efforts matter and how businesses can catalyze system-level change in the face of significant global issues, such as climate change and income inequality.
Examine the broader environmental, political, and social landscape in which you operate, including the role of government, investors, and customers.
Determine what you can do in your career to become a purpose-driven leader.
​Engaging in this program will give you the knowledge and skills needed to integrate sustainability into your organization's DNA. Become a purpose-driven leader who can navigate the complexities of the business landscape and contribute to a more sustainable future.
This course is specifically tailored for individuals responsible for their company's sustainability initiatives. It caters to current professionals seeking a recognized sustainability certification within their job scope and individuals seeking employment in roles requiring professional sustainability certification.
Enrolling in this course will equip you with the skills and knowledge necessary to capitalize on the growing career opportunities in sustainability.
The sustainability job market is experiencing remarkable growth, driven by governments and companies committing to reduce carbon emissions and achieve various sustainability goals. This commitment has created a high demand for sustainability professionals. Regardless of your current job role, there are abundant opportunities to incorporate sustainability knowledge and skills to enhance your career trajectory.
Embrace the opportunity to enhance your career and make a positive impact through the power of sustainability. By acquiring a recognized sustainability certification through this course, you will position yourself as a qualified professional in this thriving field. You will be equipped to contribute meaningfully to sustainability efforts and leverage the increasing demand for sustainability expertise across various industries.
AgileAsia holds the distinguished honor of being the pioneering Training Provider in Singapore authorized by the prestigious Center of Sustainability and Excellence to offer the highly acclaimed Certified Sustainability (ESG) Practitioner course (Advanced 2023 edition).
This comprehensive training program has received certification from the esteemed CPD Certification Service, ensuring its adherence to rigorous professional development standards. Participants can earn valuable CPD credits, reflecting an estimated 25 hours of immersive learning. It is important to note that the responsibility for claiming and validating CPD activity rests solely with the participant, as CSE does not assume any responsibility for the process.
Rest assured that by enrolling in our Certified Sustainability (ESG) Practitioner course, you will access cutting-edge knowledge, industry insights, and practical tools to navigate the dynamic landscape of sustainability and significantly impact your professional endeavors.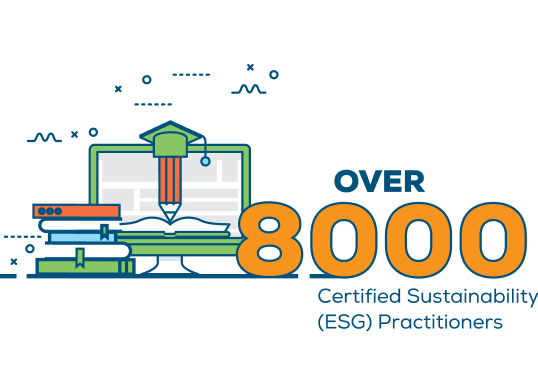 At AgileAsia, we offer comprehensive corporate training programs for Certified Sustainability (ESG) Practitioners, designed to equip your team with the knowledge and skills to navigate the dynamic landscape of environmental, social, and governance practices. As sustainability and responsible business practices become increasingly crucial for companies, our training empowers your workforce to embrace sustainability principles and contribute to positive societal and environmental impacts.
Our Corporate Training Highlights:
Certified Sustainability (ESG) Practitioner Course:
Our program provides in-depth insights into sustainability frameworks, best practices, and ESG reporting standards. Participants will better understand integrating sustainability principles into business strategies and decision-making processes.
Government Grant Assistance: We understand the value of continuous learning and support your company in applying for government grants to subsidize corporate training. You can receive funding of up to 70% of the course fees, making it an economical investment in enhancing your team's sustainability expertise.
Group Size Flexibility: Our corporate training accommodates group sizes ranging from a minimum of 10 to a maximum of 20 participants. Whether you have a minor team or a larger workforce, we tailor our training to meet your needs.
To explore how AgileAsia can enhance your company's sustainability efforts and propel your team toward becoming Certified Sustainability (ESG) Practitioners, contact us at training@agileasia.com to discuss your corporate training requirements.
Invest in your company's future by empowering your team with the knowledge and skills to create a sustainable and socially responsible business environment. Let AgileAsia be your partner in driving positive change through practical corporate training.
Curriculum
Module 1 & 2
Module 1: Sustainability (ESG) and business case for adoption
Sustainability and ESG Concepts
Definitions and Interpretations of Sustainability (ESG)
The Business Case for Sustainability
Sustainability (ESG) Related Risks
Case Studies
Step by Step methodology to integrate Sustainability and maximize value creation
Module 2: Global and local legislation for sustainability and GHG emissions
The Sustainable Development Goals for 2030
COP21, 2020 UN Climate Change Conference (COP26)
Local Legislation and Regulations for GHG Emissions and Sustainability
Module 3 & 4
Module 3: Sustainability strategies and most widely used standard & ESG rating
The Importance of Stakeholders
How to Create a Strategy and Engage with the Stakeholders
Exercise: Identifying Organizational Stakeholders & Corporate Risks
Case Studies
Certified B Corporation
Sustainability Strategies and Scorecard
The Importance of SROI
Exercise: Social Impact
The Importance of ESG
CSRHub, MSCI, Dow Jones Sustainability Index
Unique Simulation Exercise Included
Module 4: Responsible communication and how to avoid green & blue washing
Sector Focus
Responsible Communication
Green and Cause-Related Marketing
How to Avoid Green & Blue Washing
How to Avoid SDG Washing
Best Practices for Communication
Module 5 & 6
Module 5: Circular economy and the importance of sustainability in supply chain, carbon reduction strategies
Circular Economy: Definition and Case Studies
Global Plastic Elimination Progress
Sustainability and Supply Chain
Standards Applied to Supply Chain
Carbon Reduction Strategies
Life Cycle Assessment
CDP
Module 6: Sustainability (ESG) reporting based on GRO and other ESG guidelines. How to communicate effectively and future trends
Steps for Sustainability Report Creation
Sustainability Reporting Trends
Exercise: Materiality
The New GRI STANDARDS
External Assurance
Good Practices for Sustainability Report Communication
Case Study and Exercise: Understanding Reporting
Integrated Reporting & SASB
Return on Sustainability (RoS) Framework
Sustainability Trends
Upcoming Course Schedules & Details
For eligible company sponsored participants, please send details to training@agileasia.com for registration as the Invoice will be issued under company name. Participants may make payment using this Invoice and receipt issued for reimbursement.
DATE

TIMINGS

FEE IN SGD

TRAINERS

REGISTER

Sep-28 - Sep-29
(Duration: 2 Days)

9am to 5pm

$760.00 to $2160.00

Henry Kang

Nov-29 - Nov-30
(Duration: 2 Days)

9am to 5pm

$760.00 to $2160.00

Henry Kang

Dec-12 - Dec-13
(Duration: 2 Days)

9am to 5pm

$760.00 to $2160.00

Henry Kang
DATE
:
Sep-28 - Sep-29
(Duration: 2 Days)
TIMINGS
:
9am to 5pm
FEE IN SGD
:
$760.00 to $2160.00
TRAINERS
:

Henry Kang

Enroll Now
DATE
:
Nov-29 - Nov-30
(Duration: 2 Days)
TIMINGS
:
9am to 5pm
FEE IN SGD
:
$760.00 to $2160.00
TRAINERS
:

Henry Kang

Enroll Now
DATE
:
Dec-12 - Dec-13
(Duration: 2 Days)
TIMINGS
:
9am to 5pm
FEE IN SGD
:
$760.00 to $2160.00
TRAINERS
:

Henry Kang

Enroll Now
Please Note:
This course is designed for everyone tasked with the company sustainability responsibilities. Those currently employed with job scope need a recognized sustainability certification, and those who want to get employment that requires professional sustainability certification.
Upon completing the 2-days course, participants will have the chance to submit a two-year sustainability plan that will qualify them to earn the globally recognized Sustainability ESG Certification and become Certified Sustainability ESG Practitioners. The final assignment helps participants implement practical tools and use the knowledge gained practically.
For those without knowledge or experience in Sustainability, we strongly recommend that you take the one-day Sustainability Skills for Manager course.
Funding Eligibility
The NTUC's e2i (Employment and Employability Institute) funding aims to support Engineers and Professionals, Managers, and Executives (PMEs) in upgrading their skills and increasing their current competency level in relevant industries.
Singapore Citizen and PR (Self-sponsored)
Course Fees
$ 2000.00
Funding
70 %
Nett Fees
$ 600.00
GST
$ 160.00
Nett Fees + GST
$ 760.00
Singapore Citizen and PR (Company-sponsored)
Course Fees
$ 2000.00
Funding
70 %
Nett Fees
$ 600.00
GST
$ 160.00
Nett Fees + GST
$ 760.00
Others
Course Fees
$ 2000.00
Funding
0 %
Nett Fees
$ 2000.00
GST
$ 160.00
Nett Fees + GST
$ 2160.00
Terms & Conditions for e2i funding:

- The participants must be Singaporean or Singapore Permanent Residents to be eligible for the grant.

- The participant must attain 100% attendance for the course. Otherwise, a full fee will be imposed.
- Participants shall not receive any other funding from government sources in conjunction with this training grant.
- Full personal details and NRIC are to be provided upon request for eligibility verification.
- After the course, the trainee must fulfill one of the following:

- Job retention for three months
- Job placement
Why Most Corporates Prefer Us!
At AgileAsia, we pride ourselves on being the go-to destination for all your corporate training needs. Discover why countless businesses choose us as their preferred training provider:
Comprehensive Training Solutions: As a leading training provider in Singapore, we offer diverse professional certification courses, ensuring we can meet all your training requirements under one roof. We specialize in bridging the knowledge gap and equipping your workforce with the skills needed to thrive in today's competitive world.
Trusted by 50+ Corporates: Our track record speaks for itself. With the trust of over 50 corporate clients, we have established ourselves as a reliable partner in delivering exceptional training solutions. We have successfully served businesses of all sizes and industries, earning their confidence through our commitment to excellence.
Expertise in Consulting and Coaching: Our team brings extensive experience in consulting, coaching, and serving corporate clients. We understand businesses' unique challenges and objectives, allowing us to provide tailored training solutions that address your specific needs. With our expertise, we guide organizations toward sustainable growth and success.
Highly Qualified Instructors: Our courses are designed and delivered by highly qualified instructors with industry knowledge and practical experience. They possess the expertise to deliver engaging and impactful training sessions, ensuring your employees gain valuable insights and applicable skills.
Customized Solutions: We recognize that every organization is unique. That's why we offer customized training solutions that align with your company's goals, culture, and industry requirements. Our instructors work closely with you to tailor the training content and delivery methods, ensuring maximum relevance and effectiveness.
Join the ranks of satisfied corporate clients who have experienced the AgileAsia advantage. Elevate your workforce's capabilities and drive your organization toward unprecedented success with our trusted training solutions.
Corporate Clients
More than 100 companies
Certification Issued
More than 15,000
Testimonials
Never have I attended such an engaging course and it makes my journey of Agile and Scrum journey much more fun and fulfilling. Trainer Stuart Mitchell has definitely take up the standard of teaching and coaching up many notches. Very insightful views from vast working experiences that Stu has. Highly recommended!
Eugene Lee
Project Manager
Dennis and team are just simply great to work with. They are prompt with their replies and clear with their instructions to ensure that learners get the best experience and learning journey with them. That's why I had chosen to go back to them for my CSPO course after taking my CSM course with them. I am looking forward to the post course gatherings and informal trainings which I heard they they organize after Covid.
Edwin Anuruddha Chow
Event Manager
The class was conducted in the best way possible (online zoom classes)! Stu is really passionate and shares many tips on facilitation. Highly recommend to anyone!
Quah Kai Li
Senior Auditor
Thanks for the CSM course, I found it a rewarding experience. The course was well set out, easy to understand, and had an amazing trainer and coach (Stuart). It wasn't just about certification, but also gave insights to a lot of engagement techniques and real world experiences. I would highly recommend this course.
Shibil Poulose
Senior Director at VISA Singapore
The CSPO course that I took recently from Agile Asia was excellent. The instructor Mr.Sam had made us understand the responsibility of a PO very easily, with good hands-on practices and Q&A sessions after each topic. I would recommend this course for anyone, who would like to acquire Agile skills in a short period.
Renganayaki Ramasamy
Junior Product Associate
Absolutely wonderful course - The 2-day program was concise yet informative, also very engaging. Highly recommend anyone looking to do Certified Scrum Master to go with Agile Asia. The payment was also fuss-free, and if you are Singaporean, Skillsfuture credits were easily utilized
Abby Zhijun Wu
Software Engineers
Excellent course. The trainer was very interactive and provided very useful examples and facilitation techniques that are relatable in the working world. It was a good and enriching experience engaging with the trainer and other team members via the different platforms used throughout the course.
Lydiawati
Junior Product Associate
The program was concise and practical. I get to walk through the entire scrum process. Stu guided the team into role-playing for experiential learning! Much enjoyed! Word of caution: High energy and focus required throughout the course.
Terry Ng
Software Engineers
One of the best providers in the agile training space. The facilitators Stu and Sam have been there are done Scrum in large organizations and bring a wealth of knowledge. They convey concepts so well during classes that even people without a prior background can assimilate the knowledge easily.
Ajay Kumar Venkatasubramanian
Junior Product Associate
Attended CSM course by Stu Mitchell. Really enjoyed his lesson. Taught us how to be a good ScrumMaster. The techniques and case studies and engagement by the trainer, really showed the role is key in the scrum team. Definitely recommend.
Herman Shah
Software Engineers
This is an excellent training program conducted by a highly professional, knowledgeable and practicing trainer supported by a very motivated team. Stu Mitchell demonstrated in the real-life example of how to facilitate a Scrum team as a Scrum Master. His role plays often depict the real-life example
Poh Sing Low
Software Engineers
Thanks again for the course, I found it excellent and connected directly to all the challenges we talked through (especially as I am in large scale scrum delivery, plugging into multiple waterfall teams/cultures - not easy!).
S. Davidson
Executive Director, JP Morgan (October 2017)
As a course participant you will definitely learn how to implement Scrum, but more importantly, exposure to Stuart's passion will give you both critical insights into the underlying, non obvious, issues and tools and techniques you can use to immediately increase the odds that your orgnanization's
R. Roach
CSM Trainer (TCS)
I cleared my Scrum Master certification examination with 100% mark. I am so grateful for your efforts! Stuart is an incredible trainer. I will highly recommend you to my friends and colleagues
A. Nath
Trainer (Oracle)
I had some agile experience going into the training, and it was very helpful to learn what I do well. More importantly, I learned what I don't do well and how to change that.
C.Popescu
Senior Scientist at Oracle
Frequently Asked Questions