Formerly Theanthropy Pte Ltd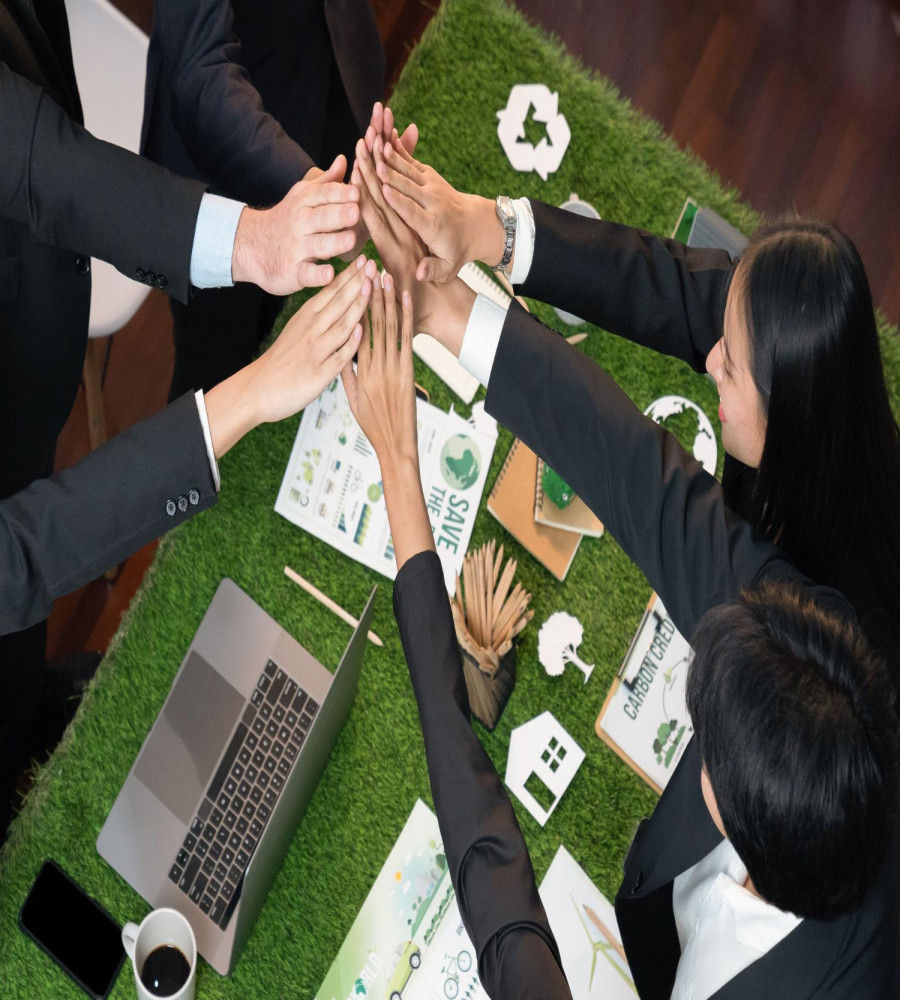 In Singapore, the push towards sustainability is more than a mere trend; it's a critical initiative that businesses and industries are embracing. This shift towards sustainable practices has fueled a growing demand for professionals specializing in sustainability. This article delves into the burgeoning market for sustainability practitioners in Singapore, exploring the demand, requisite skills, and promising career avenues in this ever-evolving field.
Singapore's Thrust Towards Sustainability
As a nation known for its innovation and progressiveness, Singapore has recognized the significance of sustainability in its economic and environmental landscape. The Singapore government has set ambitious sustainability goals, promoting green initiatives and the reduction of carbon emissions. This commitment has led to a surge in the demand for skilled individuals in the field of sustainability.
The Market for Sustainability Practitioners
Industry Demand: Various sectors in Singapore, including finance, technology, and manufacturing, seek sustainability professionals to drive their environmental, social, and governance (ESG) initiatives.
Educational Qualifications: The market values individuals with relevant degrees in environmental studies, sustainability management, or similar disciplines.

Required Skills:Proficiency in areas such as sustainability reporting, environmental compliance, energy efficiency, and waste management is highly sought after.

Certifications and Courses: The market favors candidates with certifications in sustainability frameworks and practices, showcasing their commitment and expertise in the field.

Experience and Expertise: Professionals with hands-on experience in implementing sustainable strategies and driving change in their respective industries stand out in the market.
Career Opportunities in Sustainability
Corporate Sustainability Manager: Responsible for developing and implementing sustainability strategies within an organization, ensuring compliance with regulatory standards.

Sustainability Consultant: Engaged in advising companies on sustainability measures, offering solutions to enhance their environmental impact.

Environmental Compliance Officer: Monitors and ensures that businesses adhere to environmental regulations and best practices.

Energy Efficiency Specialist: Focuses on optimizing energy consumption and reducing carbon footprint in organizations.

Sustainability Analyst: Assesses and reports on the environmental, social, and governance performance of companies.
Growth Factors in the Industry
Government Initiatives: Singapore's supportive policies and regulations toward sustainability drive growth in the industry.

Corporate Embrace: Businesses are increasingly recognizing the long-term benefits of sustainable practices, propelling the need for sustainability practitioners.

Investor Interest: Investors are keen on companies that prioritize sustainability, creating a demand for professionals to drive and manage such initiatives.

Public Awareness and Advocacy: Growing public awareness about environmental issues encourages companies to prioritize sustainability, boosting the market for practitioners.
Challenges and Opportunities
Skill Gap: While the demand for sustainability practitioners is high, there's a need for upskilling and educating a workforce to meet industry requirements.

Innovation and Research:There's a growing opportunity for professionals to contribute to research and innovation in sustainable practices.

Changing Regulatory Landscape: Professionals must stay updated with evolving regulations and standards in sustainability.

Diverse Industry Integration: The increasing need for sustainability professionals spans across various industries, providing a broad spectrum of career opportunities.



The market for sustainability practitioners in Singapore is robust and continually growing. With the country's commitment to sustainability and a shift towards greener practices, the demand for skilled professionals in this field is set to escalate.
The industry presents a wide array of opportunities for individuals passionate about making a positive environmental impact. Singapore's sustainable push and the evolving market for sustainability practitioners promise an exciting and promising career path for those inclined towards creating a greener future.
agileasia agile asia redagile cspo certification singapore certified scrum master singapore safe training safe agile certification scrum master certification singapore scrum master certification in singapore safe certification agile certification singapore scrum alliance scrum master courses leading safe scrum certification singapore certified scrum product owner scaled agile course cspo scrum master certified safe certifications safe agile framework certification certified scrummaster scaled agile isaca certification scrum master certified scrum master cspo certification scrum master course certification for scrum master csm sg scrum product owner certification scaled agile framework scrum alliance login agile courses certified scrum master certification agile course scrum master certification get csm certification agile project management vs waterfall esg certification singapore cisa certification singapore csm singapore product owner certification scrummaster course certified information systems auditor agile methodology certification scaled agile certification certification of sustainability waterfall methodology vs agile csm certification waterfall vs agile methodology agile vs waterfall methodology scaled agile framework certification agile framework certification agile certification scrummaster agile methodology vs waterfall scrum product owner scrumalliance certification sustainability product owner certifications scrum master agile product management course singapore icagile certified professional daily scrum is used to esg certification scrum certification michael tay csm scrum alliance certification esg course singapore esg certifications certifications in scrum ux design course singapore what is one accountability of the product owner deliverables agile leader project deliverables isaca login waterfall vs agile agile vs waterfall agile scrum master what is deliverables in project management deliverables for a project what are deliverables in project management professional scrum master product owner scrum agile safe what is a common misconceptions about agile and devops waterfall agile ibf subsidy scrum master in agile scrum master ux design course scrum a agile blockchain certification crisc certifications master scrum agile product owner ibf funding what is a common misconception about agile and devops crisc certification ibf certification eccouncil login difference between scrum and agile blockchain course singapore rpa courses icagile skillsfuture how to claim difference between agile and scrum product management courses singapore deliverables project agile project management scrum meeting deliverables of a project crisc what is agile scrum methodology scrum in agile cisa what is safe agile project management agile agile is scrum methodology in agile daily scrum skillsfuture credit claim skillsfuture claim utap claim ux course singapore what is a deliverables skillsfuture claim login agile it project management utap courses singapore scrum vs agile product owner skillsfuture certificate scrum master salary ntuc security course schedule training provider singapore 737715 pmp certification singapore blockchain courses singapore scrum meetings waterfall methodology agile scrum safe agile